1999 Mercedes-Benz C Class C43 - AMG - SOLD!
Classic C-Class (W202) - Rare, "AMG" model

Class, luxury and power...

Created by AMG, the C43 is a German embodiment of one of the grandest traditions in performance tuning: a big engine in a small car. The engine in question is the 4.3-liter (260 cu. in.) aluminum alloy V8 first introduced in the 1998 E430 and also found in the newly-introduced CLK430 coupe. In those cars, it develops a respectable 275 horsepower. In C43 tune, a healthy 302 horses are found under the unassuming C-Class hood. The engine is light for a large V8; the C43 weighs only 132 pounds more than a C280. As a result, weight distribution is not adversely affected. Ultra-low profile tires mounted on 17-inch AMG aluminum alloy wheels and other suspension modifications improve cornering abilities with little reduction in ride comfort.

Only 1150 C43s were made over a three-year period for USA Shipment (1998:579, 1999:546, 2000:25).
Unlike many "tunercars", the C43 is perfectly acceptable as daily transportation. It is comfortable, relatively quiet (except for a wonderful V8 growl), and roomy enough for four people - capable of seating five. It is a compliment to the solidity of the C-Class chassis structure that it works so well.

The Mercedes-Benz C43 combines European chassis sophistication with V8 power
culminating in a very classy muscle car that also works well for everyday use.
A rare and fleeting opportunity to own a classic C43 AMG Mercedes-Benz,
crafted with German engineering and quality - one of only 546 produced for USA.
(The last year before the dreaded 2000-2005 term of poor quality control of their vendors.)
Many owners have put over 100,000 miles on these gems, and some over 300,000 miles!

Click any image below for the full view in a separate window.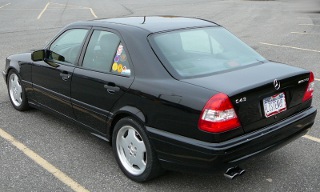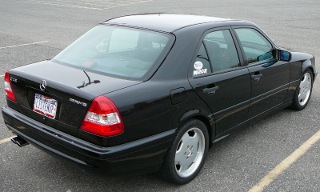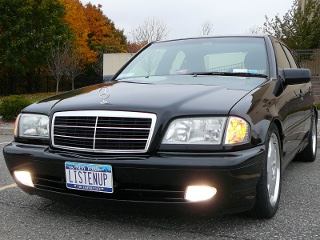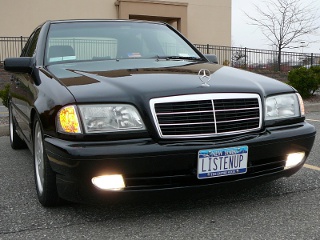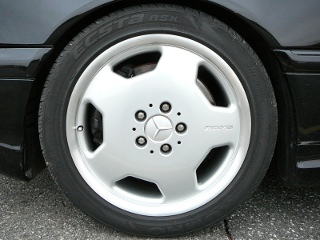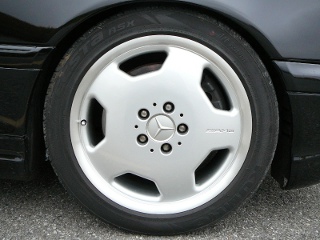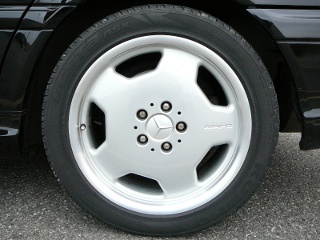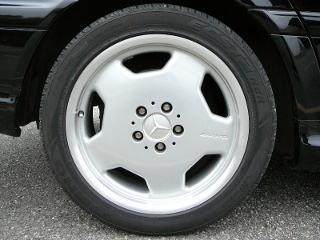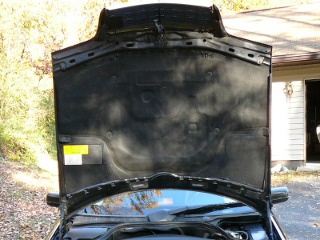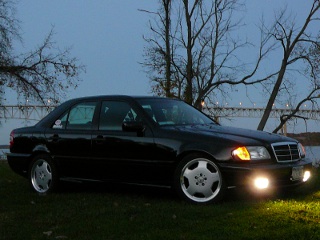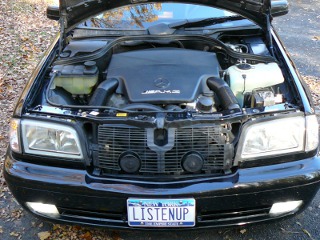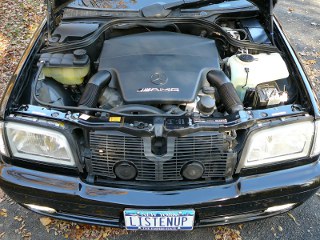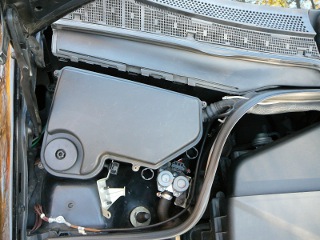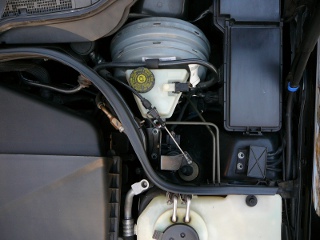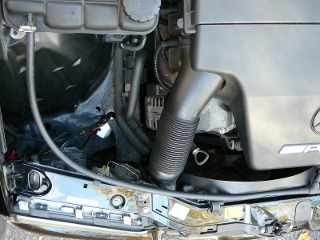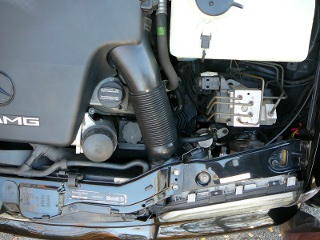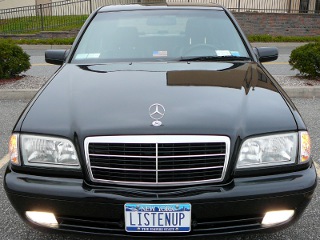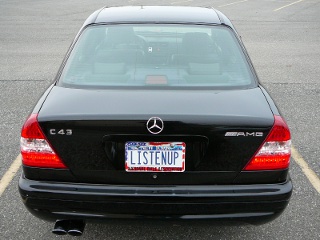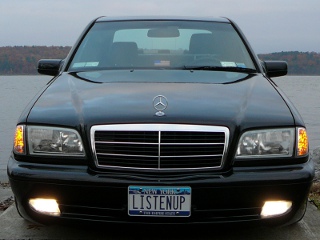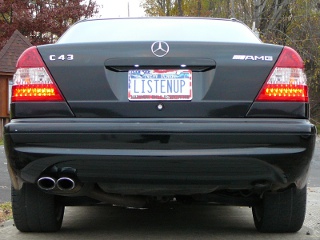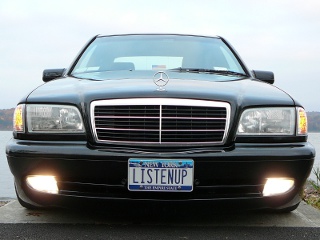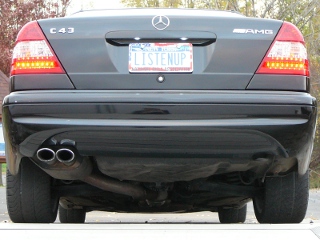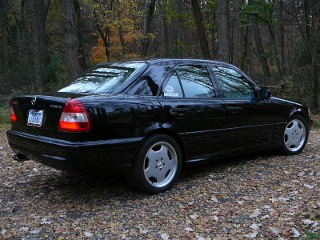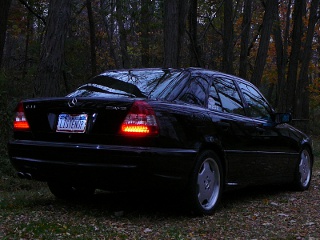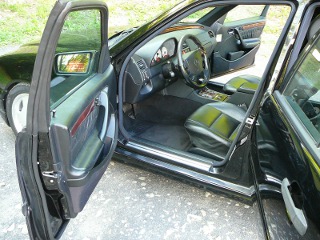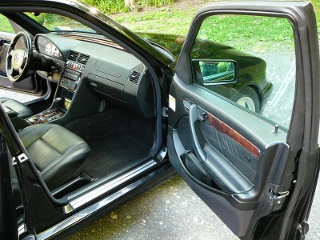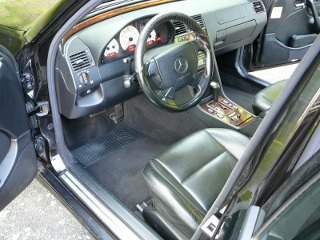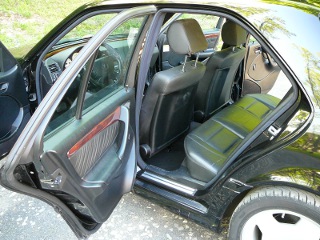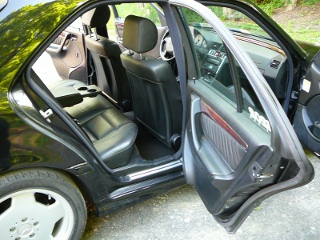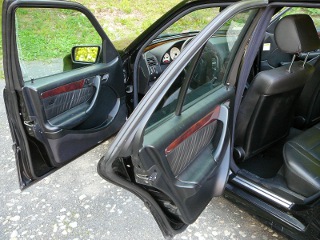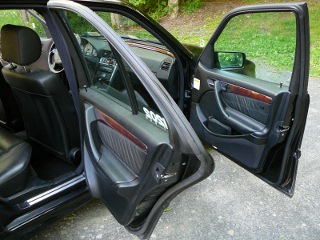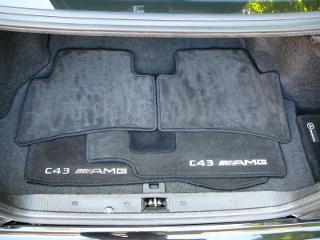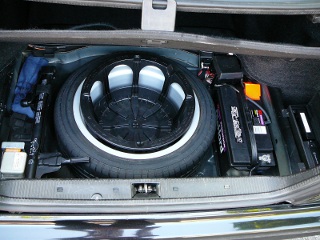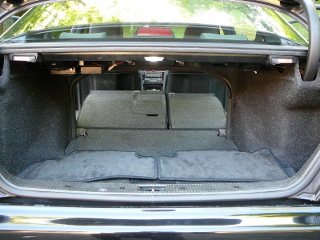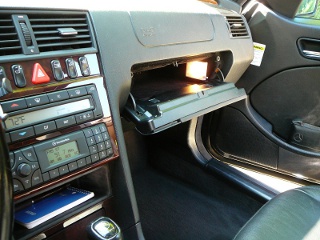 Rear Seats folded down! Notice lit "Puddle Light" under the door pocket!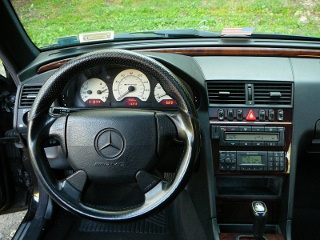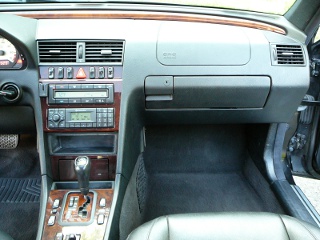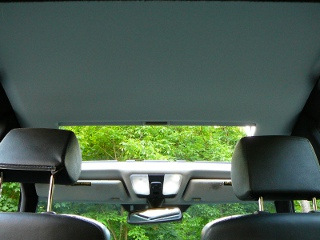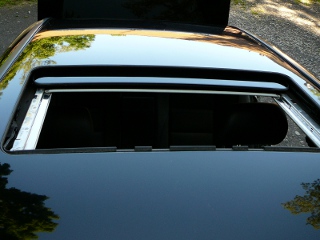 Roof raised in Moon-roof mode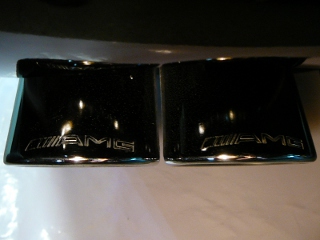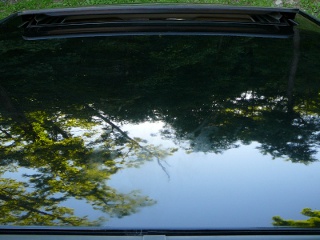 Roof open in Raised Sun-roof mode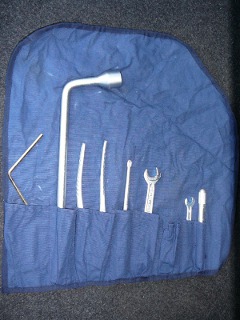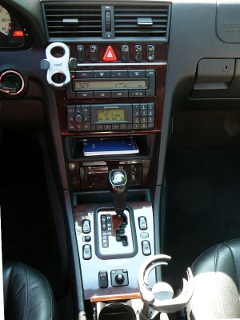 Complete, with one original 1999 C-Class Factory Brochure

---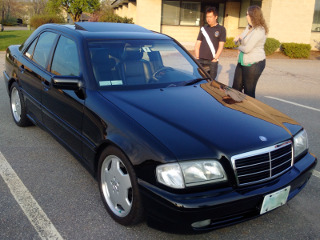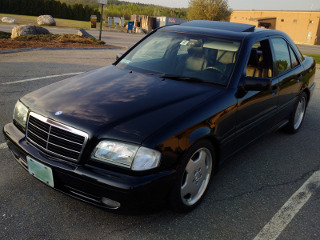 As of 2015, it's current owner has it looking better than ever!
(click the thumbnails above for larger photo)
Year & Model:
1999 C43 AMG
Body Style:
Four Door Sedan
Mileage:
116,979
Exterior Color:
Originally, Metallic Obsidian Black 197, repainted Black 040 before my purchase
Interior Color:
Black with Burl Walnut trim on doors, dash, console and shift gate.
Velour floor carpeting and AMG labeled floor mats
Engine:
4,266-cc SOHC 24-valve V8, 303 hp @ 5850 RPM, 302 lb-ft @ 3250-5000 RPM
Transmission:
Driver-adaptive electronic 5-speed automatic. Driver-selectable winter mode. AMG-modified for crisper, higher-rpm upshifts, with heavy-duty componentry and external liquid cooling.
Drive Type:
2 wheel drive - rear
Sport-Tuned Suspension:
Solid, larger-diameter front and rear stabilizer bars,
reinforced upper front control arms, AMG-Bilstein shock absorbers, and progressive-rate springs.
Fuel Type:
Gasoline - 91 Octane
Wheels and Tires:
Wheels are Staggered 17" AMG Monoblock design 5-spoke aluminum alloy:
Front: Kumho ECSTA ASX 94W 225/45ZR17 (2/32") on 7.5Jx17 refinished AMG Monoblocks
Rear: Kumho ECSTA ASX 94W 255/40ZR17 (2/32") on 8.5Jx17 refinished AMG Monoblocks
(Originally: 225/45ZR17 and 245/40ZR17)
Original Spare Monoblock 7½Jx17H2 ET35 Wheel and
Continental ContiSportContact 215/45ZR17 Tire
(A set of 4 Dunlop SP Winter Sport M2 235/45R17 94V M+S directional on 7.5Jx17H2 ET35 on AMG Monoblocks available separately for $990.)
History:
Original owner purchased it Oct. 4, 1998 at Mercedes-Benz of San Diego.
I have copies of that dealer's Service Invoices up until Feb. 21, 2006 with 91,173 miles.
First owner signed off the title on May 15, 2006 with 91,583 miles.
I purchased the C43 on Apr. 12, 2007 via eBay. I am the second owner (a non-smoker).
I had the vehicle shipped via DAS, and picked it up on May 18, 2007 with 94,234 miles.
The windshield was replaced at a Mercedes-Benz dealer March 2008 due to stone chips.
Shortly thereafter, I purchased a rebuilt transmission and converter from Silver Star Transmission and replaced them at about 101,000 miles.
While I work mostly at home, the C43 was my 'daily driver'/main transportation until obtaining my next AMG. (This C43 AMG is now rarely driven since purchasing my 2005 E55 AMG.)
It is in the Hudson Valley, NY, USA.

VIN:
WDBHA33E3XF771731 Date of Manufacture: 07/98 in Stuttgart
Asking price:
Sold!
Be aware that Used Car Value price listings may not include these equipped options:
Telescoping Wheel; Heated Front Seats; 6 disc CD Changer & Integrated Phone.
Some agencies value these options ridiculously low if at all (e.g. Heated Front Seats!), while valuing others unreasonably high (e.g. of what value is an integrated analog cell phone?).
Features - (Bold are believed to be upgraded factory options. Trailing Number is M-B code)
Left Front Seat, Electrically Adjustable 221
Right Front Seat, Electrically Adjustable 222
Outside Temperature Indicator 240
Automatically Dipping Inside Rear View Mirror 249
AM/FM Stereo/Weatherband Radio 254
with scan and dual-sensitivity seek tuning,
concealed autoreverse cassette player with
music search, and antitheft coding.
Multifunction operating panel includes integrated controls
and displays for radio, CDs, Phone, cassette player.
Multi-Contour Seat, Front Left 404

Multi-Contour Seat, Front Right 405

Power Tilting/Sliding Sun/Moon Roof 414
(with Interior shade)
Telescoping Steering Wheel 441
Intrument with Miles Ind. and English Legend 461

Electronic Stability Program (ESP) * 472
U.S. Version 474
Paintwork, Preservation 524
Sun Visors with Lighted Vanity Mirrors 543
Anti-Theft/Anti-Break-In Warning System 551
Folding Armrest, Front 570
Automatic Climate Control 581

(No code designation available) 581A

Electric Window Lifter, 4-Way, V 124, 6-Way 584

Deletion - First Aid Kit 634

Deletion - Warning Triangle 636

Packaging for Shipping Vehicles with Tie-Down Hook668

High-Capacity battery 673
AMG Styling Package-Front Spoiler, Side Skirt 772
Shell Modif. for AMG Wheels (Rolled Fenders) 774
AEJ 08/1/M/X 809
8-speaker Bose® sound system with automatic,
speed-sensitive volume adjustment 810
Heated Front Seats 873
Heated Screen Wash System 875
Sport Package ** 956

** Sport Package includes:
Solid, larger-diameter Front and Rear Stabilizer Bars
Reinforced Upper Front Control Arms
AMG-Bilstein Shock Absorbers, and
Progressive-rate Springs ***
AMG Ivory-color Instrument Faces with Amber
Nighttime Backlighting of markings and indicators

Factory rated performance:
0-60 mph in 5.9 seconds
EPA Fuel Economy Est - City (MPG) 18
EPA Fuel Economy Est - Hwy (MPG) 23
Low Emission Vehicle (LEV) Emission certification
Fuel Tank Capacity, Approx (gal) 16.4

Vehicle Manual
Power Steering
Power Disc Brakes - Large AMG Dual-piston Front Calipers
Power Door Locks
Power Windows - all with one-touch express-up/down
5-Speed Automatic Transmission
Tachometer
Outside Temperature Thermometer
(Air Conditioning) with Electrostatic Dust Filter
(REST mode can warm cabin with residual heat
up to 30 minutes when engine is off)
Cruise Control
Carpeting and 4 Floor Mats
Front Bucket Power Seats
Reclining Seats
Leather Upholstery
Driver Side Power Remote Electrochromic Mirror
Passenger Side Power Remote Mirror
Electrochromic Rearview (Automatic Dimming) Mirror
Integrated 3-button garage door control,
compatible with HomeLink® components
Center Arm Rest with 2 compartments
Dual Cup Holders - front & rear
Retractable Rear Headrests
Trunk mounted 6 CD changer (dealer-installed)
Center console mounted portable cellular phone
(dealer-installed)
(call 911 even without an active service plan?)
Multicontour front seats with pneumatically
adjustable side, lumbar and thigh supports
Dual Front Air Bags with Passenger side Switch
Front Side Air Bags
60/40-split folding rear seat backs
Keyless Entry - 4-button Remote Transmitter
(integrates SmartKey, door lock/unlock buttons,
trunk opener with valet lockout feature,
removable valet key and panic alarm)
17" AMG Alloy Wheels


* Electronic Stability Program (ESP):
Developed for more secure cornering stability,
ESP monitors the car's response to your braking
and steering input, to determine if your C-Class
is maintaining your intended course. Standard on the
C43, ESP helps keep you on course by selectively
braking individual wheels, reducing engine torque
and/or upshifting as needed, to help correct oversteer
or understeer.
(No system, regardless of how sophisticated,
can repeal the laws of physics or overcome careless
driving actions. Please always wear your seat belt.)



Kropf's modifications:

Black grill behind the Chrome & Trim
Eagle Eyes: BZ055 Clear Corner Parking/Turn signal housings with LED 2357A Bulbs
VVME H1 4300K Xenon (High Intensity Discharge - HID) Foglights with OEM Glass (not fading plastic) Lenses
Sylvania Silverstar H1 High Beam bulbs
VVME H7 4300K Xenon (High Intensity Discharge - HID) Headlights with OEM Glass (not fading plastic) Lenses
Eagle Eyes BZ062SASY Tail Lamps with LED top and bottom
LED License Plate lamps
LED bulbs in Map Lamp, Front and Rear Dome Lamps, Trunk Lamp
Under front doors "Puddle" Lights (with LEDs)
Silver Star Re-manufactured and improved 722.631 Transmission/Converter
Eibach Pro-Kit springs in Front only - greatly improved ride! ***
Akebono ProACT Ceramic Front Pads

*** Springs currently installed:
Front: Eibach Pro-Kit Springs with #3 pads
Rear: Original AMG Progressive-rate Springs with #1 pads
(I will install any spring combination that the new owner may prefer.)


You may email Kropf with any questions and/or serious offers.

Are you in Canada? You should check this link.
Germany UK


Data Card info:
Order number:  0 9 705 35382
Delivery date: 24 07 1998
Paint code 1:  197U OBSIDIAN BLACK - METALLIC PAINT
Equipment:     581A No code designation available
Engine no.:    113944 60 003956
Transmission:  722631 01 021471

SA code:
197U    OBSIDIAN BLACK - METALLIC PAINT
221     LEFT FRONT SEAT, ELECTRICALLY ADJUSTABLE
222     RIGHT FRONT SEAT, ELECTRICALLY ADJUSTABLE
231     No code designation available
240     OUTSIDE TEMPERATURE INDICATOR
249     AUTOMATICALLY DIPPING INSIDE REAR VIEW MIRROR
254     RADIO MB AUDIO 30 - USA
265     LINES-NO.PLATE DISCONTINUED
404     MULTI-CONTOUR SEAT, FRONT LEFT
405     MULTI-CONTOUR SEAT, FRONT RIGHT
414     ELECTRIC TILT/SLIDE SUNROOF IN GLASS VERSION
441     ADJUSTABLE STEERING COLUMN
461     INSTRUMENT WITH MILES IND. AND ENGLISH LEGEND
472     ELECTRONIC STABILITY PROGRAM (ESP)
494     U.S. VERSION
524     PAINTWORK - PRESERVATION
543     SUN VISOR WITH MAKE-UP MIRROR L. AND R., BE-
551     ANTI-THEFT/ANTI-BREAK-IN WARNING SYSTEM
570     FOLDING ARMREST, FRONT
581     AUTOMATIC AIR CONDITIONER
581A    No code designation available
584     ELECTRIC WINDOW LIFTER, 4-WAY, V 124, 6-WAY
634     DELETION - FIRST AID KIT
636     DELETION - WARNING TRIANGLE
668     PACKAGING FOR SHIPPING VEHICLES WITH TIE-DOWN HOOK
673     HIGH-CAPACITY BATTERY
772     AMG STYLING PACKAGE-FRONT SPOILER, SIDE SKIRT
774     SHELL MODIFICATION FOR AMG-WHEELS
809     AEJ 06/1/M/X
810     SOUND SYSTEM
873     SEAT HEATER FOR LEFT AND RIGHT FRONT SEATS
875     HEATED SCREEN WASH SYSTEM
956     EQUIPMENT PACKAGE SPORT

This page was last updated on Nov. 29, 2015 at 18:19:11 EST.